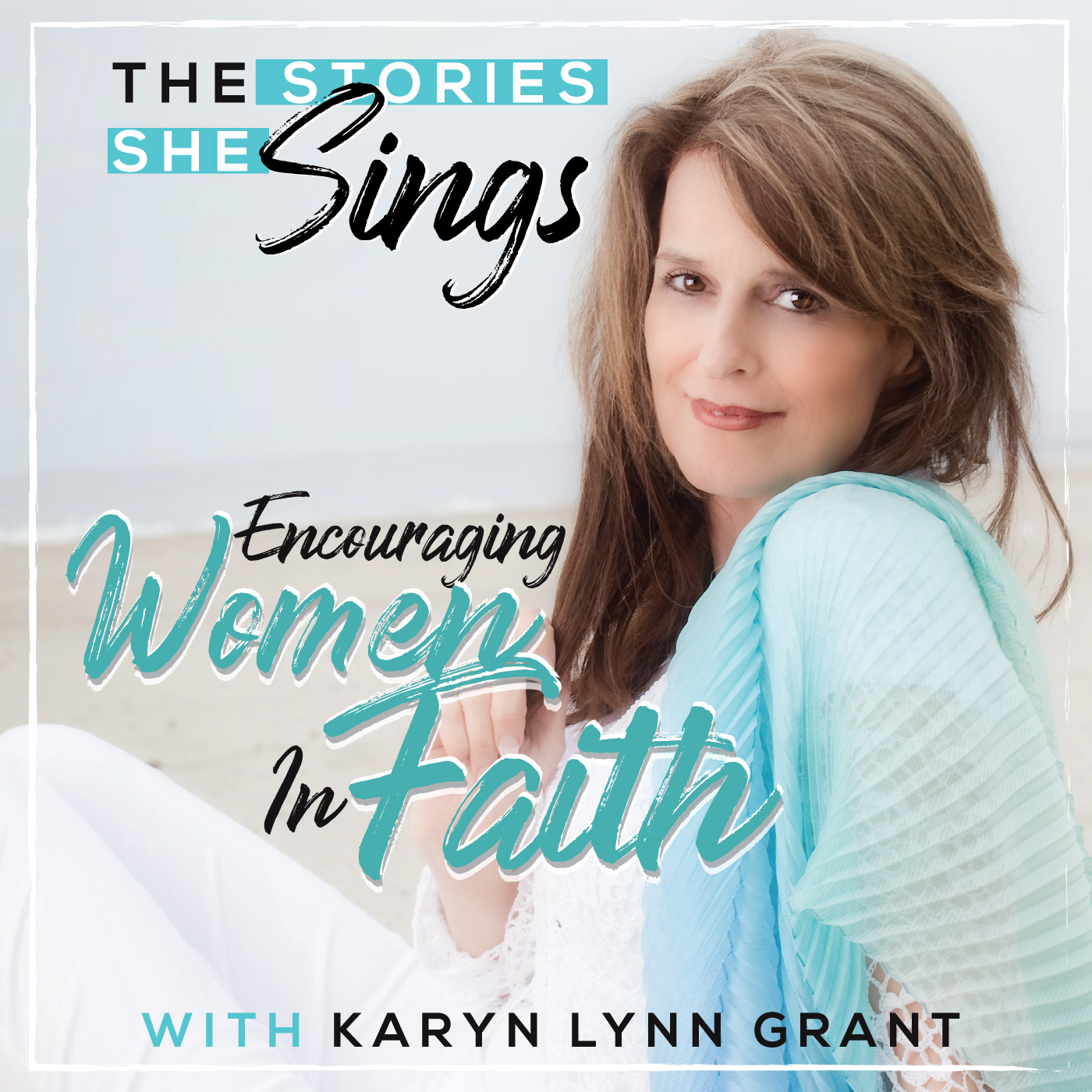 Ep #34  Singing Solo For Jesus   As a young girl, Karyn made her way to Christ, singing "solo".  Her love of the Lord was inspired by writing song after song as she traveled through the pages of ancient scriptures.  
"At age 14,  I read "The Book of Mormon" from cover to cover.   This is what filled my heart with a desire to write songs about the pure love of Christ.  I wrote my first song, "Awake My Soul", after finishing the book on February 15, 1975.
After that, Karyn continued searching the scriptures, often in the middle of the night.  Through the years that followed, she continued the practice of reading scripture verses and then writing songs for Jesus. 
The practice of writing songs & lullabies for Jesus followed her into her married 
life and as a young mother.  Writing and singing songs about women in The New Testament became a huge part of her life's journey during her twenties and thirties.  More songs came in her forties....
In her early fifties, Karyn lost her voice for four years.  During this time, she prayed in nothing more than a whisper, for her voice to return as she missed singing songs for Jesus. 
 At 54, Karyn's voice returned and she recorded her songs about women in The Old Testament.  Since then, K
aryn's life has continued on as a "musical journey" to Christ.  She feels she has been sweetly serenaded by the stories of women in the scripture. 
"Writing and singing songs about the women who knew Him and loved Him, in ancient days was the one thing that brought me joy no matter what I was going through.  This became the sacred chord that laced the years of my life together into a beautiful soul-satisfying and enduring connection with Christ."
Karyn has spent the wee hours of the morning for nearly five decades now, writing song after song about women in The New Testament, The Old Testament and The Book of Mormon; another book which Karyn feels is another witness of the divinity of Jesus Christ. 
At least sixty-seven of the original songs Karyn has written have been inspired by stories in the scriptures.  "Before writing the songs about women in  scripture, I always prayed to understand what each woman may have felt in her own way, in her own day, as she made her way to Christ in ancient times." 
"I have found that by writing and singing songs for and about Jesus, I have been given the gift of a deep faith that, regardless of our religious backgrounds or differing beliefs, God's love for His Children is truly constant, unchanging and still the same --- yesterday, today and forever."
In this episode, Karyn shares some of the songs that were inspired by "The Book of Mormon".  No matter what your religious background, or religious denomination, Karyn hopes that you may find solace and comfort during the trying times of your life, as you discover your own way.... to Jesus.
Whether you are new to "The Stories She Sings" podcast or a loyal fan, please support our mission by rating, reviewing and subscribing to the show on Apple Podcasts or wherever you prefer to listen. Your support and your reviews mean a lot to me and to help share this empowering message to women everywhere. Plus, it provides me with valuable feedback, so that I can continue to provide the best listening experience possible.
 
I love hearing from fans and listeners. Please share your feedback, guest suggestions, or ideas for show topics with me on social media. (See links below)
 Connect With Karyn on Social Media: facebook or Linked In
 
 
Visit Karyn's Website: JoycoachingAmerica.com
Listen to Karyn's other Podcast: "Joy Coaching America" karynlynngrantpodcast.com
Check out Karyn's 18 song album: "Sariah's Song" on Amazon
Listen to all Karyn's wonderful faith-filled music: on Apple or Spotify